Our organic Breakfast Buffet
7 am - 10 am daily
Price: 23€/person (if not allready included in the room rate)
Regional & organic
An important consideration in the selection of products offered in our buffet is the provision of high quality, locally produced products. Where possible, organic products are preferred. As a result, our product selection consists almost entirely of high quality organic products.
A tasty and high quality breakfast is the best foundation for an enjoyable day of sightseeing and discovering the city, as well as for a demanding business day.
Providing this daily foundation for our guests is exactly what we want to do - and we want to do it in good conscience - with our carefully selected, mostly organic buffet, with an emphasis on regional supply.
Our organic product selection is certified by Austria Bio Garantie.
Discover ourproduct selection and suppliers!
Organic "we care" sustainably traded coffee from Lebensbaum

Organic sail-shipped coffee from sailshipping pioneer Brigantes

Tea-Selection of 100% organic farming provided by gourmet food store Julius Meinl.
Organic haymilk cheese of Pötzelsberger Dorfkäserei in Salzburg Country.
Organic yogurt and organic whole milk from organic dairy "SalzburgMilch".
Viennese organic ham of pork and turkey hen from the small local ham manufactory Thum.
Organic muesli and organic porridge from bavarian manufactory "mymuesli".
Hand-made organic jam specialities of Trausner Genusswerkstatt, located in the biosphere reserve area of Salzburg county Lungau.
Organic jams in mini glas jars delivered by traditional producer Staud's Vienna.
Organic bread, organic rolls, cake, and pastry made by the family owned and operated organic farm backery "Mauracher" (Sarleinsbach, Upper Austria).
Austrian organic honey from a family operated beekeeper from Lower Austria and Burgenland.
Austrian organic fruit- and vegetable juices directly squeezed at the Upper Austrian Company Voglsam ("Hasenfit").
Freshly perpared organic eggs
On request we serve freshly prepared organic eggs as scrambled or soft boiled eggs.
Our scrambled egg is freshly prepared exclusively from organic eggs (and nothing else) and served in a Sissi/Franzl design cup from the Viennese porcelain manufacturer Hollyaroh.
Order from our staff!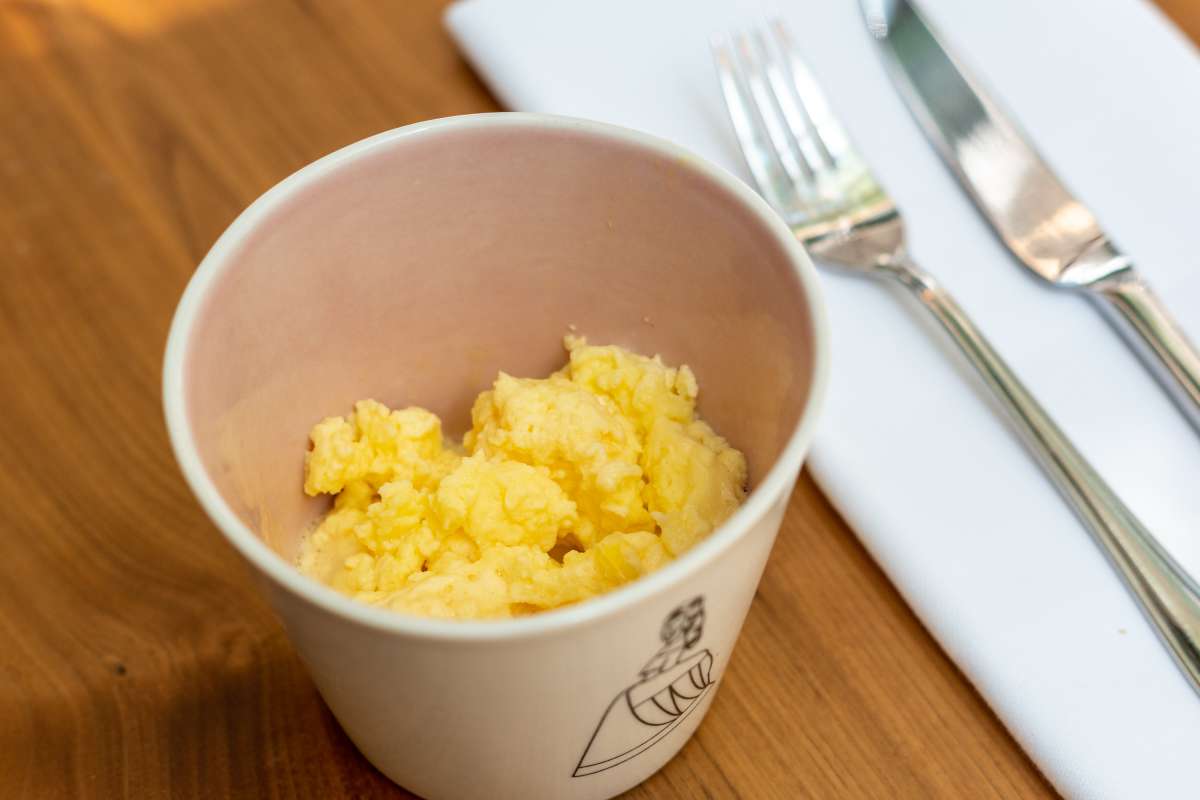 Breakfast with and for Children
We know – from our own experience – breakfast can only be relaxed and satisfactory as our beloved children are provided with suiteable breakfast ingredients selected to their taste. Therefore you can find high quality organic products that children love (hot chocolate, nougat spread, honey poppies, chocolate muesli, … as well as fresh organic fruits).
Allergy-friendly Breakfast
On our buffet lactose free & gluten free products are waiting for you to enjoy! Bread and rolls are all lactose free and vegan, pure rye bread is available. You will find many choices suiteable for vegan und vegetarian lifestyle.
Coffee can be prepared with whole milk or with an oat based alternative.